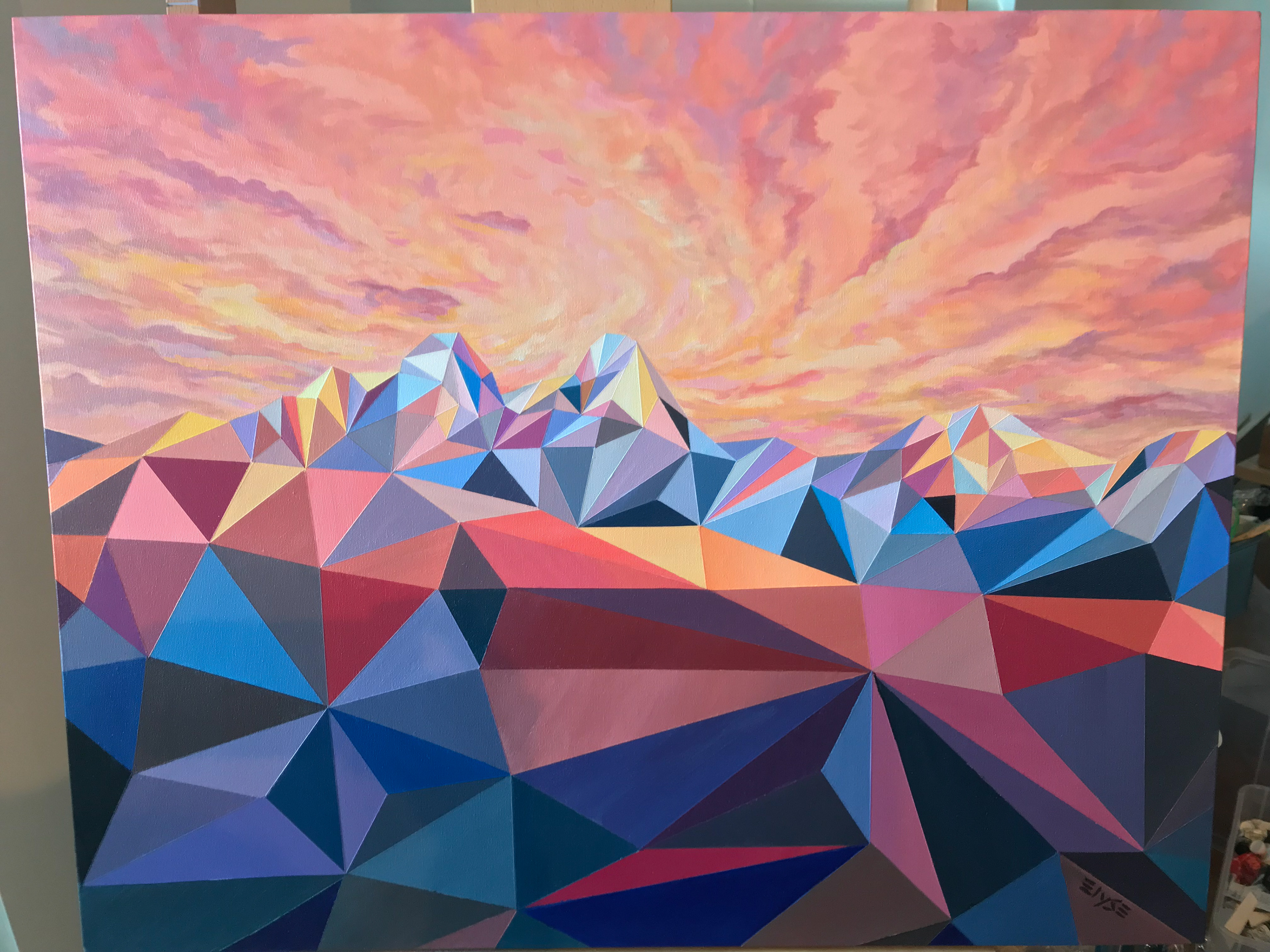 Lions - Available through the Ian Tan Gallery
24" tall x 30" wide - Acrylic on canvas 
$2,800
This acrylic painting of the Lions located in Vancouver BC, was created for the show, This Mountain Home, featured at the Ian Tan Gallery. 
"As citizens of Vancouver's lower mainland, artists Elyse Dodge and David Pirrie live under the shadow of the coastal range. Their works are topographic, expressive responses created in fascination of these towering rows of frozen rocks, paintings punctuated by bold colour and visual analyses of their geographical features. Both artists interface with these sublime mountainous landscapes and develop their works through a process mediated through the body, the lens, the screen and finally paint.
Dodge isolates the mountain in the landscape, deconstructing and reconstructing the angular slopes and faces through digital preparatory sketches before the final painting. Similarly, Pirrie identifies and selects a particular aspect and removes it from its surrounding context of the range, at times secluding it in space or overlaying a pattern and merging the fore with the background. With their practice, each artist abstracts the particular qualities of the mountain, consecrating in visual homage, the symbolic power each individual crag, ridge and peak signifies."
Digital Design of The Lions
This digital sketch was created for a project in partnership with the Georgia Straight and Opus Art Supplies for the Vancouver Mural Festival in 2017. With 5 hours, a Georgia Straight newspaper box and some art supplies sponsored by Opus, I had to create a finished painting. See images below for the process!  
The digital file can be changed to a landscape or portrait orientation. Prints and paintings are available for purchase, please inquire through email on the contact page.